Please take a minute of your time..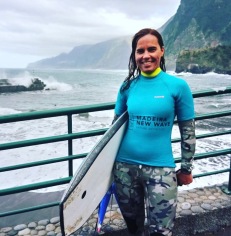 Level Surf

Pure Beginner
Trying surf for the first time. WARNING! You might get addicted for life :)

Beginner +
Tried surfing a couple of times in the "white water" (after the wave is broken,

Intermediate
I can "pop up" on the board still hard to catch the wave myself

Intermediate +
I catch the green wave (unbroken wave) wave myself and want to learn to surf (turn)
Inspiration - start practicing at home!
Example program

Day 1
Arrival, getting settled
Check in Surf home with 12 beds

Day 2
Breakfast
Surf or bodyboardlession

Day 3
Breakfast
Surf or bodyboardlession
Yoga (basic) in nature
Dinner at surfhome

Day 4
Breakfast
Hike the scenic route

Day 5
Breakfast
Surf or bodyboardlession
Dinner at surf home

Day 6
Breakfast
Surf or bodyboardlession
Free time for example levanda walk (non guided) or to see the sunset and dramatic waves at Paul do Mar from excellent restaurant Sol & Mar
Yoga (Basic) in nature

Day 7
Breakfast
Hike the challenging tour between Pico do Arieiro (1818 m) and Pico Ruivo (1862 m) - 5-6 hours
Picnic lunch

Day 8
Breakfast
Surf or bodyboardlession
Dinner at surf home

Day 9
Breakfast
Departure

Program is subject to change, due to weather conditions. We do each activity when it is best suited.